The Estalea Model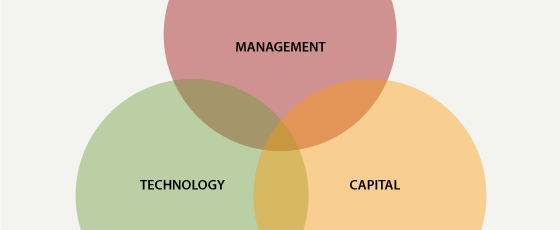 Estalea brings a proven model to the creation and operation of each new portfolio company. This model consists of three intersecting endowments by the parent: Capital, Technology, and Management:
Capital - Is comprised initially of internal funding by Estalea, but over time -- as the business model shows promise -- is augmented by outside investment. Put simply, we use our own funds to finance the most speculative developmental stages.


Technology - Estalea's proficiency in developing enterprise grade software is leveraged in two ways: Our plug-and-play systems enable rapid operational maturity, while the fast-tracking of custom applications speeds time-to-market of offerings.


Management - To accelerate growth, minimize cost, and maintain each company's core focus, Estalea provides a robust suite of insourced management services, including: product development; marketing; legal; HR; finance; and administration.
This model enables our portfolio companies to launch products and services faster -- and more cost-effectively -- than their competitors. What's more, it shortens each company's timeline to profitability and enhances shareholder value. As our track record makes plain, Estalea is rewriting the book on modern technology entrepreneurship.